Crop Protection Australia

®
Crop Protection Australia® is a wholly owned business and registered trademark of Rainbow & Associates Pty Ltd. Rainbow & Associates Pty Ltd was formed in February 2001 with the vision to provide excellence in agricultural innovation and technology through research and consulting services.
Crop Protection Australia® has a charter to deliver crop protection consultancy services integrating into sustainable farming systems. This includes biotic trait gene deployment strategies, cultural crop management, pesticide and biosecurity programs. In addition the company also leads the development and use of advanced technologies, including precision agriculture and agricultural machine automation.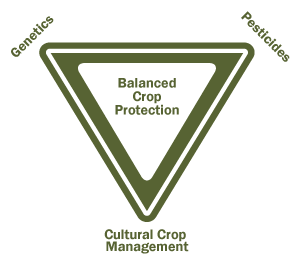 Crop Protection Australia's company logo using a plant in a triangle is significant. The triangle represents the 3 key approaches to sustainable crop protection.
Crop Protection Australia has extensive crop protection experience in genetic, cultural management, pesticide and biosecurity programs. Company Director Dr Rainbow is one of the leading scientists within Australia in the field of conservation and no-till farming systems and use of advanced agricultural technologies with numerous speaking engagements across Australia, New Zealand, Europe and North America. Dr Rainbow has become well known for his biosecurity and crop protection expertise in Australia and internationally.
Company Director Dr Rohan Rainbow is from a family farming background with over 30 years research, communication and training experience in crop protection and advanced technology use in farming systems. Dr Rainbow has extensive experience in leadership, strategic planning and delivery of new agricultural technologies in the Australian agricultural industry.
Dr Rainbow has specialist technical knowledge in biosecurity, crop protection, seeding and no-till farming systems, soil mechanics, crop nutrition, soil drainage, controlled traffic, precision agriculture and agricultural automation and robotics. For over 7.5 years Dr Rainbow led the national crop protection program for the Australian grains industry with the Grains Research and Development Corporation and has since been instrumental in delivery of a number of cross-agricultural industry initiatives including crop protection, digital agriculture and machine automation.